We are often asked the question, "what are the best office copiers for small businesses," so we decided to team up with our friends at Buyer's Lab and make a list.
Reliability was listed as the most important factor. A machine with great features and image quality isn't that great if it's broken all the time. Therefore, only machines that received a reliability rating of 8.5 or more were considered for our list. The other four factors (image quality, ease of use, security, and features) were averaged and then added to the reliability rating.
The criteria listed below are certainly not the only factors to consider when purchasing an office machine. Your company may have unique needs that are not covered in this review, so it is important to consult an industry professional before making a final decision.
Reliability
Each machine ran the recommended number of impressions listed by the manufacturer and was assessed based on the number of misfeeds that occurred during the test.
For instance, a machine claiming an average monthly duty cycle of 200,000 impressions/prints would be tested by running 200,000 sheets through the machine.
Image Quality – rates how well the copier performs in the areas of:
Colour Print Quality (business graphics and photographic images)
Black Print Quality (text, halftone range, halftone fill, line art, and solids)
Print Density (measures the density of a printed image with blocks of all solid colours based on the average of two readings each for cyan, magenta, and yellow, and four different locations for black output)
Gamut Variance Readings (assesses the distance between colours)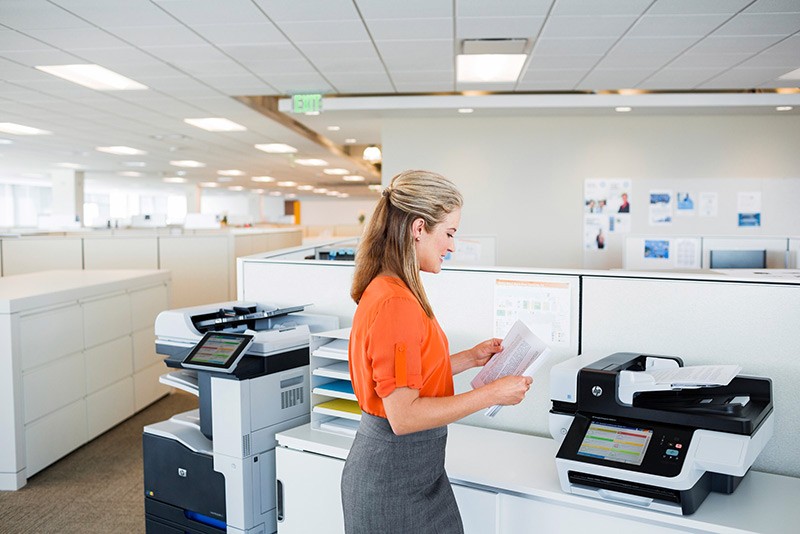 Ease of Use
Are the design and interface intuitive? This category is measured in the areas of print, scan, copy, job management, multitasking, and feedback.
Security
What features are included to secure data, including network user authentication, biometrics, ID card, common access, and more?
Features
The variety of apps and tools included with the device, as well as other hardware features like additional memory and hard drive capacities. This category is broken down into three criteria: specifications, solutions, and environmental.
How much does a new copy machine cost?
The average small office copier machine costs $1,500 with higher-grade commercial copiers reaching $15,000 – $40,000 depending on printing speed, quality, and advanced features like stapling, scanning, and faxing options.
Here's what you need to know in 2023.
A really good home copy machine might cost $175.00 or more, but standard commercial copy machines range between $3,000 – $15,000 depending on your needs. Many businesses choose to rent or lease their machine, typically for periods of between three and five years. Rental and lease rates are set based on your expected copying needs, so be sure to determine your current workload before you sign a deal. An important question is, how many black & white prints and how many colour prints will you make each month?
What is the life expectancy of a copier?
In taking into account all of the variables that impact commercial copier lifespans, a good average to use when estimating the performance life of a modern copier is five years. That is to say, with moderate use and with reasonable printing demands, most copiers can be expected to perform well for five years.
Between Canon, Xerox, and HP copiers: What is the best?
Most of Canon's printers have good photo printing quality, even budget options. Higher colour page yield. While most printers from other brands yield more black pages than colour pages, Canon's printers tend to have a higher colour page yield.
The HP is much better at printing accurate colours, which is important if you work in print media. On the other hand, the Xerox printer prints much faster.
If you plan to get copiers for your office in Long Beach, you can opt to buy copiers or lease copiers in Long Beach We can give you the option to get the copier that you want.  You can contact our local copier leasing services department in your location.
If your Location is around Long Beach, you may call us at (562) 275-8380, and our personnel for copier leasing in Long Beach will assist you.   If you are also looking for copier repair services in Long Beach you may contact our copier repair personnel at the same number.