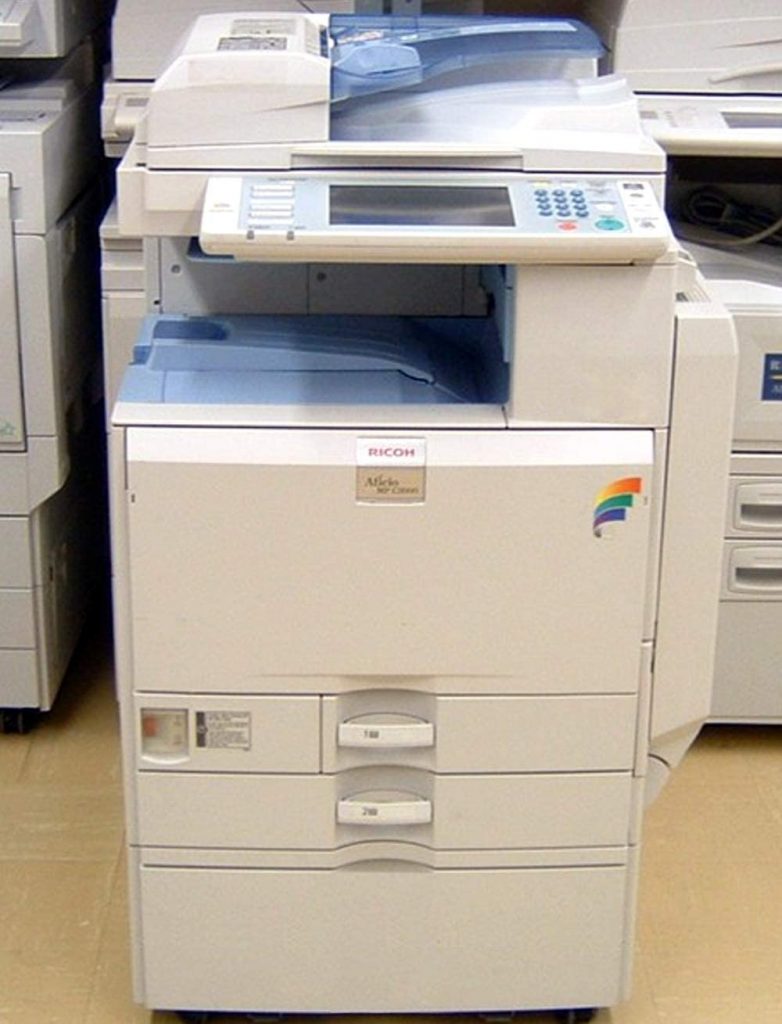 Ricoh MP C2500 is a multi-function, copier that may be used by a small group of people or more likely small teams. This machine is known to have a standard for network function, printing, faxing, finishing, scanning, and copying. And aside from supporting an 11" by 17" paper size, this machine can also handle the capacity of one thousand and a hundred plus papers and could print 25 pages per minute. Can you imagine that??
The Rico MP C2500 brings a wider range of features that aims the maximization of your team's productivity and to attain the demands of a very busy environment. The fact that there are also existing products like this, just be wiser enough in choosing a quality machine. Just make sure to follow the rightful capacity it could handle.
Without any delay, let's discuss what ricoh mp c2500 really is. Let's get started!
Ricoh MP C2500 Features
1. Affordable
As we can see, some business establishments value rapid working and ensuring safety as well. While some companies value the advancement of capabilities. But now, it's not that a problem anymore. With the help of this machine, Ricoh MP C2500 offers you versatility that you might need while attaining affordability. Because as entrepreneurs , valuing productivity and reducing your cost is the most important factor. Business is always about lesser cost and greater profit.
2. Fast and Reliable
As we wish to attain productivity on the things that we are doing, finishing a specific task on time is really essential; and by that you tend to do your work as fast as possible. This machine deduces manual collation and stapling the optional finisher. Also, as mentioned above it supports 1,100+ sheets. And because of that, it keeps your job running with a minimum intervention. In addition, it also saves paper and space when you copy or print. Attaining both rapid and productive work, this machine is highly recommendable.
3. Saves time and money
Since it's a standard machine having a copier, scanner, printer, and etc., ricoh mp c2500 is a big help in saving your precious time and money as well. It won't cost you time installing a scanner or even a printer if your machine doesn't have one. With the help of the scan-to-email/folder and desktop binder functions, this eliminates postage and overnight delivery charges. It allows you to instantly and simultaneously share files. And lastly, it views and combines stored documents and various folders using different applications.
4. Its Capabilities , promoting flexibility
They say the capable you are the more productive you will be. With the Rico MP C2500 you can accept data from Macintosh, Windows , Novell and Linux network operating systems. Use PDF direct print feature for PDS printing even without opening an application.
5. Ensuring Data Security
Are you worried about your data? Well, ricoh mp c2500 assures you the safety and confidentiality of your business data. With the advancement of technology, this machine comes with the latest security that limits the access , tracks usage, and protects sensitive information. This machine is really helpful when it comes to preventing unauthorized persons from accessing the systems, it scrambles data and passwords , and is helpful in eliminating unwanted and illegal copying.
6. Beyond basic networking
Ricoh Aficio MP C2500 is furnished with the latest integration software and tools to establish installation, configuration and day to day administration. The machine also helps in managing all system settings, checking the job status & paper supply and monitoring all the systems on that network.
And for some other features, you might want to consider the data below.
Core Functionality Copier standard
Printer standard
Scanner standard
Fax option
Wireless LAN Option
Internet Fax Option
PC-Fax option
Speed 25 ppm B&W 25 ppm colour
Digital
Printing process Laser
B&W and Colour
Duplex Capability Standard
paper size up to A3
Electronic Sorting
Finishing options Booklet maker, Hole puncher, Sorter, Stapler
Application Workgroup (5-24 users)
Volume Range Category Mid
Max resolution 600 dpi
Network capability Standard
· Paper feed ARDF – Option
Benefits of Buying Ricoh MP C2500 Copier
As mentioned, copiers are intended to help you make copies of any documents. This kind of machine helps tons of people who need to create document copies regularly. Since we are now living in a technology-oriented generation, this machine has gone through a lot of innovations. This means it can offer you numerous advantages.
In this section, you will learn the possible benefits of buying a Ricoh MP C2500 Copier. Read on to know further.
Quick and Inexpensive
One of the main advantages of buying copiers is that it enables you to create copies fast and inexpensively. That being said, anyone can reproduce numerous documents in less time.
Convenience
If you don't have enough money to purchase a brand new copier, you might consider the Copiers for Lease. It offers you the convenience to make multiple copies easily and quickly. Using this machine doesn't require you to be tech-savvy. All you need to do is to switch on the machine, feed in your preferred document, and push the start button. It automatically produces copies at your desired number.
Both Side Printing
The Ricoh MP C2500 copier is capable of copying the two sides of your desired document. With this feature, you can speed up the whole printing process. Aside from that, this process is also economical since it decreases the number of papers you will need for the copy.
Improves Functionality
This kind of innovative machine has helped a lot of businesses to have improved performance and functionality. This also enables the workers to boost their working efficiency. To prevent delays in terms of accommodating office paperwork, investing in a copier, such as the Ricoh MP C2500, is a great idea.
Common Problems with Ricoh Aficio MP 4500 Printer
Every office comes with a copier – it is one of the staple machines you can find in most workplaces. That being said, it cannot be denied that copiers are as busy as the employees.
If not properly used or maintained, this machine can also show signs of defects like lines or streaks on paper, toner issues, paper jams, discolored printing, and many others. Fortunately, most of these issues can be fixed easily. Some can be prevented when maintained properly. With the proper Copier maintenance, you can lengthen the life of a copier while working at its best performance.
On the other hand, if you have a damaged copier, you might prefer copier leasing or copier repair. There are lots of companies that offer copier rental.
If you are planning to purchase a Ricoh Aficio MP 4500 Printer, the following are some of the common problems you might experience while using it.
Paper Jams
A paper jam can disrupt the productivity and performance of the office and employees as it can cause backlog and standstill. This issue may happen anytime. A poor set-up of this machine is usually the root cause of paper jams. Not only that, but it can also result from the buildup of dust, improper loading of the papers, and using the wrong thickness and type of paper.
Lines or Streaks on Paper
If your copier produces copies with any deformities on it, like lines or streaks, it can cause your documents to look unprofessionally-made and sloppy. This issue happens when there are problems that occur on the copier's fuser or the scanner's glass accumulate foreign substances.
Random Spots Across Your Copies
Everyone wants to create copies of any document that looks professionally-made. But there are times that it produces copies with a lot of dots on it. This may be the result of the debris accumulated in the copy mirror. To fix this problem, ensure to clean the mirror and glass of the machine regularly.
Why buy a Ricoh MP C2500 copier?
Why do you really need to spend money just to buy this copier right? What does it offer for you to buy a kind of copier like this?
Engaging in a business world without a competitive advantage is a loss for you. Right? It's not the fact that you'll always be on top sometimes you will be encountering downfalls. And if you're wishing for continuous productivity ,might as well consider the Ricoh MP C2500 be part of your team. It is a high performance machine that prints and scans a large number of outputs. With its features, it offers you tons of possibilities that support your productivity and creativity. Haven't you noticed, this machine can bring you and your company on the lead of wealthy possibilities. Be able to achieve your company's goals and bring the desired impact from your clients.
How to fix toner problems with Ricoh Aficio MP4500 Printer?
Usually, toner problems with Ricoh Aficio MP 4500 Printer occur when the machine has not been set up correctly. To solve this issue, try following the steps below:
1. When it happens that it keeps running even if you tried to turn off , consider cleaning the Vac, pumps and pines and even the sns. Clean your memory after printing off the default data and set up for a new registration.
2. Refer from changing your toner into a generic cartridge. It might cause your pump to keep sounding up.
3. If you follow the two steps mentioned above and the toner problems are still unfixed, try to seek help and recommendations from a copy specialist as they are more knowledgeable on how to fix this kind of problem. They may recommend you to purchase the right type of toner that should be used for your copier.
All in all, the Ricoh Aficio MP 4500 Printer is one of the good copiers available on the market. This works perfectly for personal or office purposes.
If you are looking for a copier in Long Beach, you can contact Long Beach (562) 275-8380. You can ask about Copier Lease in Long Beach, copier rental in Long Beach, and even Copier Repair in Long Beach.